Do you want to learn the best blog content creation strategy? 
We're going over my content creation strategy to get you results with your content marketing.
And if you're unsure if content can help your business, check this post.  
1. Get Inspiration for your Content Creation Strategy
I don't start with keyword research. Really, I hate starting with keywords. Why?
Because I'm 100% sure that the people I want to reach, looking to solve their problems, are not worried about keywords.
They simply want amazing content that solves their problems. And I'm here to provide the content. So, I always start with the inspiration for my content.
And you know what my inspiration is?
Problems!
I want to know exactly the problems my audience has. That's what inspires me to create content in the first place.
This is how I find problems in my niche.
1.1 Using Answer the Public to Find Questions:
Answer the Public is a free tool that uses Google Autocomplete to generate content ideas.
It's a reverse search engine:
You type keywords, and you get questions to your query.
Or really, you get problems to collect.
Here's how to do it:
Type your keyword into the search box in Answer the Public website
Collect questions, ideas and related keywords.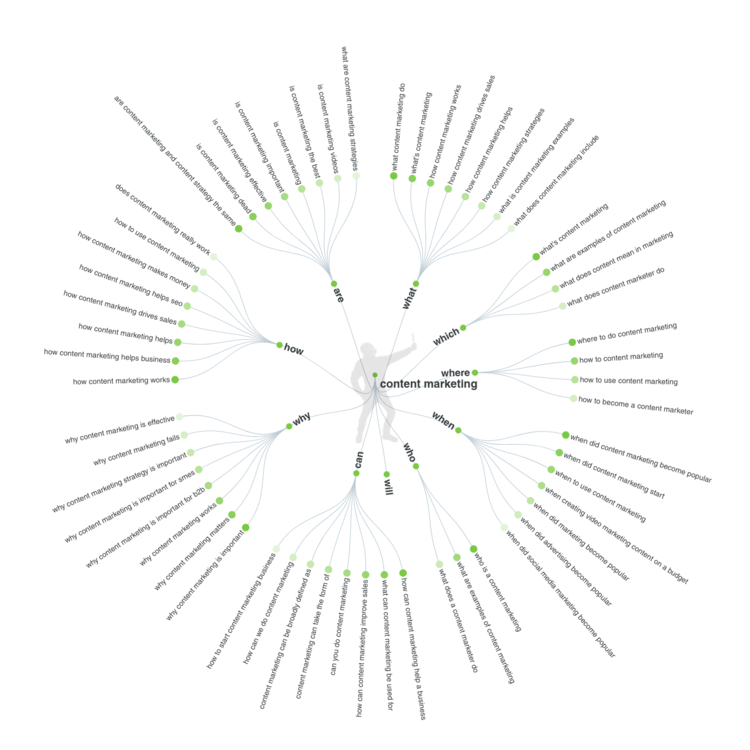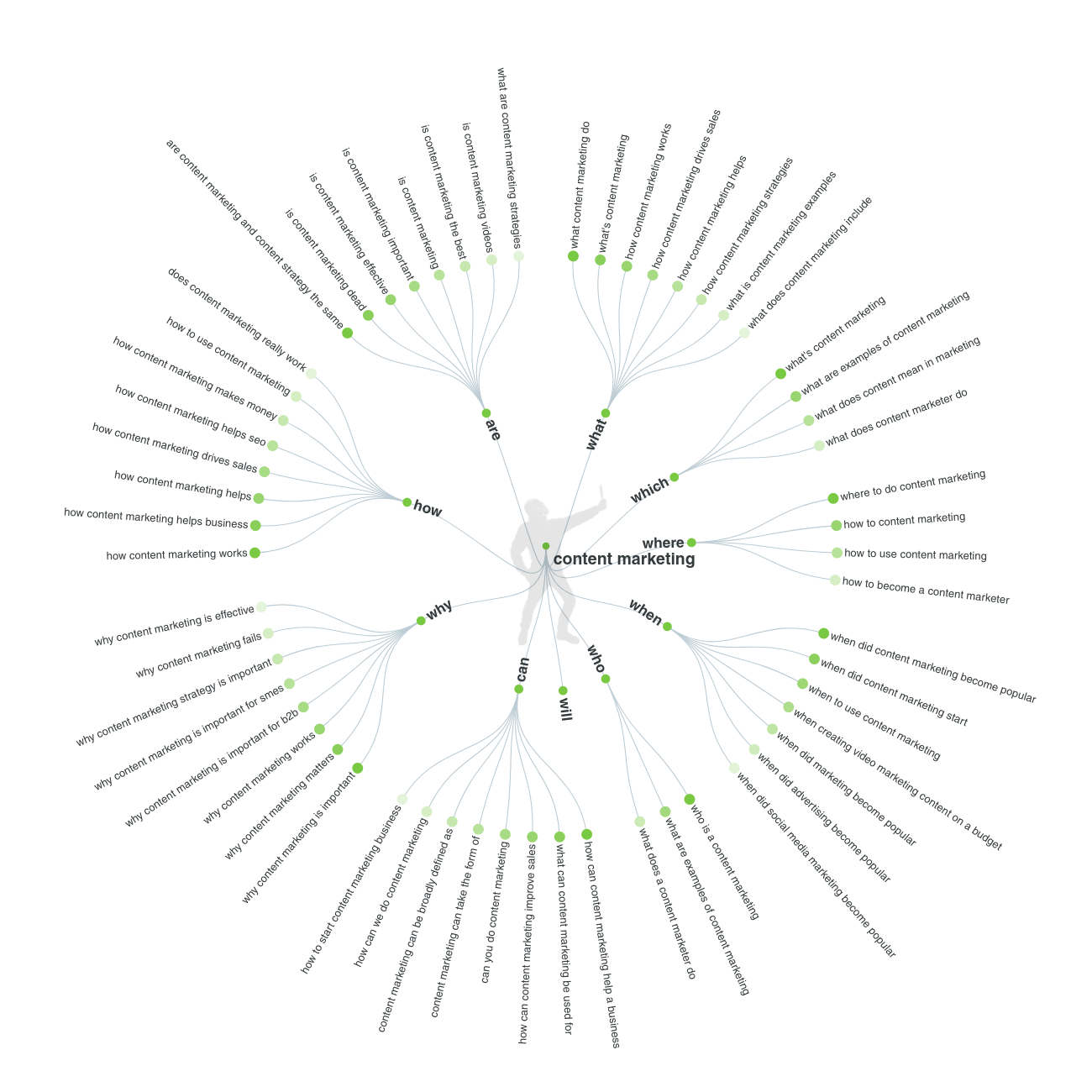 If you want a step-by-step guide on using Answer the Public to generate content ideas, I've written a post about it.
1.2 Using Quora for your Idea Research:
Quora is a question-and-answer community, similar to what once was Yahoo Answers.
People ask questions (read: expose their problems), and others answer.
This is the perfect place to find exactly what your audience is looking for and already come up with some ideas.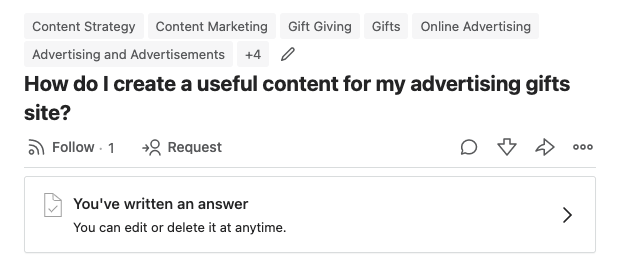 1.3 Using Reddit to Research your Audience:
I am still a bit afraid of Reddit. It's difficult to break in.
But that doesn't mean you can't spy on those strong communities (called subreddits) to find what people are talking about.
Do a quick search for your [keyword] subreddit, and you'll find a lot of problems to cover.

1.4 Using Facebook Groups to Find Content Ideas:
I'm not a big fan of Facebook. But I absolutely love Facebook groups.
There are so many relevant groups in all the existing niches in the world.
And it's such a gold mine to find ideas for content based on people's problems.
Take a look at this post I've created in a Facebook group that got 70+ comments… full of questions and insights for me to answer.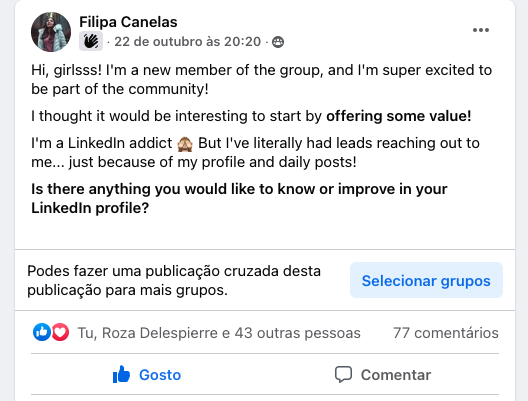 After having all of these goldmines, make sure you're jotting them down.
And describe your audience's problems using precisely the language your audience used.
2) Define your Content Clusters
After the research phase and the spike of inspiration to help some people, it's time to get strategical and get into the spreadsheet.
In this step, you want to find 3-5 content clusters.
What is a content cluster?
A content cluster is a group of content on your blog that can be related to each other. They form part of a series and work as one big piece, but you can break them into smaller pieces for better SEO optimization.
And ideally, you don't want these clusters to deviate much from each other.
Yoga, vegan meals, and a sustainable lifestyle go together. But that does not happen with graphic design, fast food recipes, and crypto investments. This might make Google a bit confused.
So, first things first, get 3-5 content clusters ideas related to your niche.
Here is an example of content clusters:
Web Development
WordPress
Landing Page
This is the foundation for all the content you will create later.
3) Conduct Keyword Research
"Oh, right. Here it comes…" Trust me. I used to feel the same about keyword research.
But now, I kind of like it. Mainly because it helps me to come up with blog post ideas much faster.
So, after having your content clusters, it's time to generate keywords around those same clusters.
These keywords will later turn into fully developed blog posts, youtube videos, or any other piece of content you plan on creating.
3.1 Use Google and Youtube Auto-complete
This is always my first step and honestly, quite an effective one.
I love to use Google and Youtube auto-complete functions to find the exact keywords people are searching for.


Here's how it works:
1. Type your keyword on the search bar
2. Wait for google and youtube to complete it for you

3. Take note of all the keywords
4. Rinse and repeat for each cluster
3.2 Use Google's "People Also Ask" feature
Do you know the section of each search that gives you the questions people are asking for?
That's a great strategy for some keyword research too (and content ideas).
3.3 Use Keywords Everywhere
Keywords Everywhere is a free browser extension that gives you related keywords, trends, and search interest on every keyword you search on google.
It's pretty useful for SEO and research purposes.
3.4 Google Keywords Planner
Google does not sponsor this post. But it looks like it.
Anyway, google keywords planner is a great resource to conduct some metric-focused research on your keywords. Take note of the search volume and the competition.
4) Blog-Post Idea Generation
The fun part has arrived. Getting those content ideas flowing.
Unfortunately, this is where most people block entirely.
They can think of a few blog post examples for each of their keywords. But that's all.
I use a strategy to help me generate at least 3 ideas for each of these keywords.
For each keyword, I have 3 main categories of content to generate content on:
Educational content, which answers questions:
Motivational content that inspires readers:
Actionable content, that gives the reader templates and examples ready to implement:
With this framework, you generate at least 3 ideas for each keyword.
And better yet, these keywords fullfil different intents of the reader (education, motivation, and action-oriented).
5) Create amazing content!
Put yourself in your audience's shoes. What are they looking for? How can you give it to them?
Use examples, case studies, practical tips. Do the work for your audience, and your content will do well.
Check the content on a similar topic from your competitors and see how well it did for them – shares, comments, traffic.
BuzzSumo is great for this research.
6) Optimize your content for Search Engine Optimization (SEO)
You've written an amazing blog post.
How can you optimize it for searches?
SEO content is about creating content that ranks high in search engine result pages (SERPs).
The higher you rank, the more traffic your site gets.
6.1 Optimize your Titles
Well, the first and most crucial aspect that will get you clicks is the title.
Craft a compelling title that gets readers interested. And do more than your competitors.
Perhaps adding ready-to-use templates or examples.
And include your target keywords in the content to help with search engine optimization.
6.2 Use Keywords in your Content
When you create content for your blog, it is important to include keywords in a natural way.
Google's algorithm has evolved over time and now emphasizes user-friendly content instead of content stuffed with keywords.
6.3 Use External and Internal Links
You want to use internal and external links to drive more traffic to your content.
Create a list of related blog posts and link back to them throughout the content.
Also, include links to your content where appropriate.
7) Content Marketing (done right)
Your content is online. What is the next step?
It's not starting a new post from scratch…
It's promoting your post.
And there are so many possibilities here: owned channels, organic, paid media, content distribution platforms, etc.
The question is:
How can I get this piece of content in front of the highest possible targeted number of eyeballs?
I highly recommend you to learn how to turn a single post into 10+ pieces of content to distribute.
With these 7 steps, your blog content creation strategy no longer needs to be a random process.
Stop getting dizzy by lousy marketing. Get my marketing insights in your inbox